Cambodia offers a surprising sensory delight!
The moment you step off the plane in Siem Reap you can smell the Jasmin, lotus and incense.
The french influences on local cuisine are not too over powering and the fresh, local produce are a treat for anyone who appreciates a true culinary experience.
The people are friendly and industrious! War and poverty have failed to dampen their spirits and instead of simply begging on the streets, those who are less fortunate always endevour to provide value in exchange for money, whether it is a book, trinket or water.
Even in the barest of rags or with limbs missing from landmine explosions, the Khmer people are dignified, humble and hospitable, always trying their best to please.
Cambodia is one of my favourite countries in the world in certainly in my top 5 Asian destinations.
Checkout my collection of photographs to see the beauty and dignity in the faces of the people of this amazing land.
TRAVEL TIPS
TUK TUKS
Only travel on the tuk tuks if you feel comfortable. Personally, I've never had an issue, but I hear stories of accidents and theft. The Taxi drivers will tell you all the horror stories if you're interested. 🙂
Unlike Thailand, Cambodian taxi and tuktuk drivers will try and become your personal chauffeur for the entire length of your stay. Do not feel obligated to stick with the one driver, who will try and arrange a pick up time for your next trip. They are most insistent but don't let that sway you if you find them too pushy or not to your liking.
If you manage to score a tuk tuk driver by the name of "Mr.T" in Siem Reap, you're in good hands!
Keep in mind, that even the best will want to take you to the "tourist spots" for the chance of commission from the textile and silversmiths. If you're short on time and just can't abide the detour ask them how much it will cost you to avoid these "best-price-shopping-for-you" opportunities, and pay the fee if you think it's fair – but also haggle. After all – you gotta haggle! 🙂
In saying that, always consider the currency exchange. Don't waste your time or energy haggling over what essentially equates to a dollar or two. Your dollar is certainly worth something but it's worth so much more to them.
If you have a few days to explore and enjoy a bit of exercise, hire a bicycle. They're super cheap and you can stop and start whenever you spot something of interest. The terrain is relatively flat. Always remember to pack extra water and a map just in case you find yourself off the beaten track.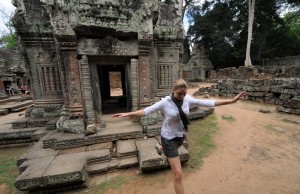 ANGKOR WAT
Siem Reap, Cambodia
Getting up before the crack of dawn to see the sunrise over one of the most beautiful temples on the planet, is well worth it. If you are lucky enough to have a few days in Siem Reap get a multi-day pass to Angkor Wat and take the time to watch the sunrise each morning from different aspects, one – from outside the complex walls and more importantly from inside to see the temple spirals mirrored in the reflection of the lake – stunning!
Ask your hotel concierge for the local sunrise time and how long it takes to get to Angkor Wat. Give yourself plenty of time to get in position as you will no doubt be jostling and vying for the best posi with dozens of avid photographers and tourists.
Go home, have a nap and then get up and enjoy a scrumptious breakfast, complete with freshly baked bread. Then, head back to the national park and make the most of your day.
Hire a local guide. A good and trustworthy guide – easily hired via your hotel – will direct you away from the crowds to the least trodden corners of this remarkable but much-visited ancient temple complex.
You can check that your guide is licensed (he or she should be uniformed with proof of their credentials), otherwise you could be well and truly led astray.
For more hints & tips for traveling throughout Cambodia click here now.