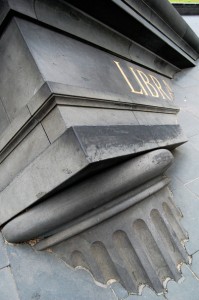 If you walked around Natalee-Jewel's house you would think she was an avid reader. Piles and piles of books, in the kitchen; in the bathroom; on the bedside and on the stairs! However, it is her husband, Andrew, who is the uber nerd (Nat's just a square). Andrew usually devours 6 books at a time and can regularly quote the exact contents of a page including the page number. The magazines, however, belong to Natalee-Jewel. A hyper-visual person books don't really "do it" for her as she can't read fast enough for her imagination to slow down. When Natalee-Jewel does come across a book worth taking the time to read, she'll start at one place:
Andrew and Natalee-Jewel are proud supporters of Better World Books

Simply by ordering the books you want you can help fund literacy, care for the environment, and get the best prices with ridiculously cheap shipping.
Better World Books is the socially conscious consumer's bookstore of choice.
Better World Books offers the lowest shipping rates on the Web: free shipping in the USA, and $3.97 shipping WORLDWIDE!
Better World Books offers these great rates because, unlike most other online used booksellers, they have all the used books physically in stock. At any one time, around 2.7 million books are on the shelves of their Indiana warehouse.
Buy your books from Better World Books and make a difference with your purchase; a portion of the money from each book you buy goes to nonprofit literacy partners!


Better World Books has raised over $7 million for over 80 literacy and education nonprofit organizations and libraries, including our 5 major partners, Books for Africa, Room to Read, Worldfund, the NCFL, and Invisible Children.

Get a great price on over 6 million titles, new and used, and make an impact while you're at it.