Combining Cambodia and Vietnam, this trip is a true cultural journey. An Indochina journey with a difference, combining Cambodia with Vietnam as a photographers odyssey. Starting in Siem Reap, a launching pad for an exploration of the magnificent Angkor Wat complex, we continue to the Cambodian capital – Phnom Penh. Our next country is Vietnam, where we cross the border near Chau Doc and explore the waterways of the bustling Mekong Delta, before completing our epic journey in exciting Saigon (Ho Chi Minh City).
Our Suggested Itinerary:
Depart:
Thursday 2345 BNE International Terminal 1
Arrive:
Friday 0540 SIN (SQ246)
SINGAPORE
Day Tour.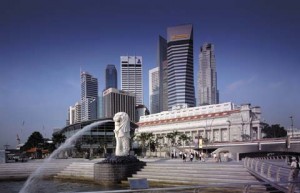 Depart:
Friday 1645 Changi International Terminal 2 (Mi 618)
Arrive:
Friday 1745 Siem Reap
The airport is less than 15 minutes from the town centre by taxi ($7) or motodop ($4). If you have an advance booking in a hotel, ask the hotel for a free airport pickup (in one of their tuk-tuks).
CAMBODIA – click for general travel tips.
HOTEL: Angkor Village Hotel
Saturday: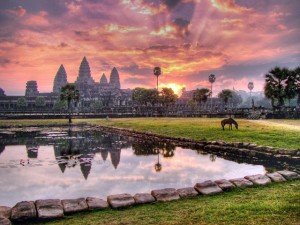 Dinner:
Chez Sophie lies just outside Angkor Wat's main entrance. It is a favourite amoung expatriates and by many rated as the best restaurant in Siem Reap. Food prices are a bit higher than the cheapest places, $8-15, but the standard is also much higher. Excellent place for lunch and or a coffee/wine break. Or for a romantic dinner. The owner Mathieu, a french UNESCO photographer who came to Cambodia in 98 is a charm, and the only foreigner living within the temple compound.
Sunday:
SIEM REAP
Monday:
SIEM REAP
Tuesday:
SIEM REAP

By boat
A more expensive and more time consuming option to Phnom Phen ($35, 6 hours) or Battambang ($20-$25, 5 hours) is to take a Soviet style Hydrofoil across the Tonle Sap Lake. These can be fantastic trips giving you the opportunity to view life on the lake, floating houses, working fishermen, and to get a sun-tan if you choose to sit on the roof of the boat. However, the trip can be ruined due to bad weather. Remember to use sunscreen and take a waterproof jacket. You will not be always able to access your luggage during the journey (sometimes the baggage is available, sometimes it is not). If you have the time, it is better to visit the floating villages as day trips from Siem Reap than to see them from the boat.
However, this year the weather has been unseasonally cold and dry. The lake is too low to carry passenger ferries to Phnom Penh so we opted for the express bus which was more like a minivan than a bus. We caught the 2pm express and arrived safely in Phnom Penh just before 7pm. There was a few road works along the way which slowed us down from the promised 4 hour trip but we certainly passed the larger tour buses along the way which generally take closer to 6hours.
The express cost $8USD per person.
Hotel: Frangipani Villa – 60s
Wednesday:
Explore Phnom Penh by Day.
Catch late Lunch ferry to Chau Doc the border crossing between Cambodia and Vietnam.
Catch bus from Chau Doc to Saigon.
Hotel:
ALTERNATE OPTION: Travel to WAT HANCHEY & KAMPONG CHAM
Thurday:
Explore Saigon.
VIETNAM – Click for general travel tips.
SIAGON
Friday:
SIAGON
Depart:
Friday 1945 Ho Chi Min City (SQ185)
Arrive:
Friday 2240 Changi
Depart:
Saturday 0010 Changi Terminal 3 (SQ255)
Arrive:
Saturday 0950 Brisbane International Terminal 1