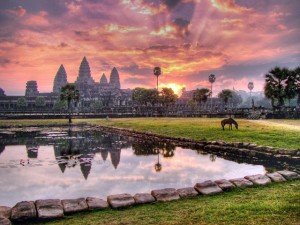 DAY 1:
The name Siem Reap literally means "Siam Defeated". However, the only rampaging hordes are the tourists heading to the fabled temples of Angkor Wat. Siem Reap is the perfect base for exploring the ancient capital of the Khmer empire.
Pick up the free Siem Reap Angkor Visitors Guide and the equally free and useful Siem Reap Pocket Guide from your hotel/guesthouse. It contains lots of info on Siem Reap and the Angkor Archeological sites.
Eco-sensitive tourists should check out "Stay Another Day: Cambodia," a detailed guide with local spots that support the environment and community. Also visit the ConCERT tourist office, a local NGO committed to raising the standards of responsible tourism and ecotourism activities and providing information on the causes and effects of poverty in Cambodia, volunteering opportunities and ecotours.
Transfer to the Angkor Archeological Complex.
Located 5.5 km north of the modern town of Siem Reap, Angkor Wat temples are globally recognized for their historical and cultural significance and beauty.
The essence of the high classical style of Khmer architecture, Angkor Wat has become a symbol of Cambodia.
Appearing on its national flag, the country's prime attraction for international visitors, a visit to Cambodia is not complete without a visit to Angkor Wat.
ANGKOR WAT
Afternoon:
3- 4 pm The Terrace of Elephant & Terrace of the Leper King
Visit the magnificent 12th Century Angkor Thom
South Gate of Angkor Thom
4-5pm:
The Famous Bayon Temple
Watch the sunset from Phnom Bakheng Hill
DAY 2:
An early start to catch the sunrise!
Breakfast!
The fabulous Ta Prohm Temple:
A structure that's no less magnificent than Angkor Wat, it is often attributed to Khmer King Jayavarman VII as a Mahayana Buddhist monastery and university. Unlike most Angkorian temples, Ta Prohm has been left in much the same condition in which it was found, which is the picturesque and atmospheric combination of trees growing out of the ruins and the jungle surroundings have made it one of Angkor's most popular temples with visitors. The architecture is as complex as any other Angkorian landmarks, if not more so; the stones are placed at such precision and complex interlocking shaped that it is impossible to fit even a single piece of paper between them!
Embrace the roots of the encroaching Fig Trees and gigantic creepers. (Yes I am a tree hugging hippie at heart!)
Said to be built by more than 1000 men, the Angkor Thom remained the capital of a kingdom in decline until it was abandoned some time prior to 1609. An early western visitor wrote of an uninhabited city of Angkor Thom as fantastic as the Atlantis which some people thought to have been built by the Roman Emperor. During its time, the ancient city is believed to have sustained a population of about hundred twenty thousands of people.
Marvel at Angkor Thom's elaborate stone carvings.
Ta Keo. An incomplete, largely undecorated temple built by Jayavarman V.
The stairs at the east side of the monument are least steep and the easiest way to reach the top level.
Afternoon:
Prasat Kravan: A little temple to end the little circuit.
Banteay Kdei: Sprawling monastic complex in the style of Ta Prohm. In poor shape, but slowly being restored.
Srah Srang: A terrace leading to a pond. Located right across the road from Banteay Kdei.
Watch the sunset over the reservoir of Sras Srang.
BIG CIRCUIT
In clockwise order, exiting Angkor Thom by the North Gate:
Preah Khan:Jayavarman VII's first capital, before the completion of Angkor Wat. Large and atmospheric, yet somewhat overshadowed by Angkor Wat and Ta Prohm, this temple is partly in disrepair with strangler figs crawling up the walls, but has some excellent carvings and less visitors, and is well worth a visit. The temple is some 3 kilometers north of Angkor Thom.
Neak Poan
Ta Som
East Mebon: Located on what was an island in the now dry East Baray, this is a large, three-story temple-mountain crowned by five towers, like a miniature Angkor Wat. Originally built by Rajendravarman II in the 10th century, many structures are in poor shape, but the temple is best known for its massive (restored) elephant statues.
Pre Rup: A temple-mountain close to and quite similar in style to East Mebon, and constructed only a decade later. A favorite spot for viewing the sun set into the jungles and rice paddies of the Cambodian countryside.
Day 3:
Travel to Boeung Melea – a sprawling jungle temple largely overrun by vegetation. Constructed in a distinctly Angkor Wat style, Boeung Melea preceded and many have served as a prototype of sorts for Angkor Wat.
Beng Mealea, 80 km east of Siem Reap. Along with Ta Phrom and others, this is a temple which has been left to nature, but unlike Ta Phrom only a few trees have been removed. The result is the visitor clambering over ruined walls (exactly the sort of thing you are asked not to do at other ruins!) and through windows to get access to areas where nature is running riot.
Lots of trees growing out of walls, and creepers hanging over ruined buildings, and consequently great for some atmospheric photos. Much of the standard walk is along wooden decking for those who don't want to clamber.
This can be taken in as part of a trip to the Roluos Group, or a long day trip with Banteay Srey and Kbal Spean, though this will entail about 5 hours travelling in total on some very rough roads. There is a $5 entry fee to Beng Mealea. Though you may want to cast a wary eye toward custodians bearing Äspara Authority armbands and local kids following you in an attempt to extract guide fees, there are, in contrast to other temple sites, almost no vendors here.
The Rolous Group of temples include:

Bakong. A five-terraced pyramid in the mountain-temple style.
Lolei Temple. An island temple constructed in a baray, now dry.
Preah Ko. The first temple to be built here, dating from the 9th century.
The ruins here are from the ancient capital of Hariharalaya, dating from the late 9th century and thus predating Angkor itself.
Continue on to Koh Kher.
Angkor National Museum:
1,000 Buddhas. The museum also shows the history of the Angkor complex as well as Khmer culture and clothing using high tech displays and video screens. $12
Landmine Museum: (6 km south of Banteay Srey, 31 km from Siem Reap)
Set up by local deminer Aki Ra to educate locals and tourists about the dangers of land mines. Piles of defused mines and UXO lie around the site and the guides are mostly teenagers who were orphaned or injured by mines, many of whom live on-site. This is a very worthwhile attraction that brings home the scale of the problem and shows you a slice of the real Cambodia.
Entrance fee to Landmine Museum $2.00.
The museum moved in 2007, so make sure your motodop doesn't try to take you to the old location in a village near Angkor Wat. If you have time combine the visit with a visit to Banteay Srey Butterfly Center which is a few kilometers south.
Banteay Srey, 37 km north of Angkor Wat. This red colored temple is well known for its intricate carvings, and is worth a half day trip on its own, since it is a bit further from Siem Reap than the main Angkor Thom and Angkor Wat areas. Car and motorcycle drivers will charge a bit extra ($10 USD) to take you to the temple.
Travel an extra 5km or so along a rough road, (expect to pay extra to drivers who take you this far) onto Kbal Spean.
After the man-made monuments of the temples, it can be nice to get back to nature for a while at Kbal Spean. Although it is the site of numerous carvings made into the rock of the river bed and surrounding areas, this lies at the end of a 1.5km (1 mile) walk through some Cambodian rain forest.
There is a small but attractive waterfall that drops to a picturesque pool, all surrounded by precariously perched boulders and creeping vines. Drier weather means less water and easier viewing of the carvings.
Wat Thmei Temple & Stupa Memorial to the Killing Fields (short distance outside of Siem Reap). There are some cheaters standing at the temple entrance or on the graves on the right side. Only give donations/tips directly to the school in the temple.
Day 4:
Take a Tuk Tuk into the local village and experience an ox-cart ride while enjoying interacting with the locals – visit a Buddhist Temple and cross rice paddies.
12 km southwest of Siem Reap, Phnom Krom is a hilltop temple that was built at the end of the 9th century, during the reign of King Yasovarman. The gloomy atmosphere of the temple and the view over the Tonle Sap lake make the climb to the hill worth while.
The Angkor passport is needed to enter the temple so do not forget to bring your passport along when heading to Tonle Sap.
Continue on to Tonle Sap Lake, also known as the Great Lake of Cambodia and embark on a local boat cruise to see the communities of the floating villages.
The Tonle Sap narrows through leafy swathes of the South East Asian jungle and at 150kms in length it dominates Cambodia.
Travelling up or down the Tonle Sap allows you to truly experience Khmer life.
Visit Kampong Louang, one of the last silversmith villages or take an excursion through the wetlands to see the floating houses and fish arms in the region.
Make a stop at a Heritage Lin sponsored floating school to interact with the children.
Travel by Train to the next destination….
Chau Say Tevoda
Thommanon
NOTES:
TRANSPORT
Bicycle
Many guesthouses/hotels will lend you bicycles either for free or for a nominal charge ($1-3).
The White Bicycles is a local charity providing a bicycle service for visitors. Proceeds goes to educate youth and for a clean drinking water project in villages around Siem Reap. The bicycles can be rented at muliple outlets around town. Have a look at their website Bicycle Charity to find the location of available outlets. Price: $2 per day. The White Bicycles can upon request set up customized tours with or without guides.
Car
Cars with drivers can be hired for single or multiple days. While all drivers are familiar with the area and happy to suggest good routes, most speak little English and are not actual tour guides. For an actual licensed tour guide, the charge varies from US$45 per day to US$50 for a driver and English speaking guide. It is customary for the drivers to ask for US$5-US$10 extra for trips to further temples such as the those of the Big Circuit, Banteay Srey and more for remote sites like Beng Mealea.
The taxis ($7 fixed cost) from the airport to Siem Reap proper advertise a full day of touring for $30.
Tuk-Tuk
It is estimated that there are roughly 1000 tuk tuk drivers in Siam Reap. They often go for days without work between. They vary in nature from reliable to unreliable***.
Within Siem Reap, tuk-tuk rides should cost $1*, with prices doubling to $2 at night and during bad weather (If you don't want to pay $2 just walk away and they most likely will call out to you and agree to a $1 fare).
*You must state your destination and $1 price up front or you may be charged up to $5 at the end of your journey.
Tuk-tuks are ubiquitous. If you plan to stay in Siem Reap for a few days, it can also be a good idea to build a relationship with one tuk-tuk driver as once they know you they will quite often take you to places off the regular tourist route and allow you to experience the "real" Siem Reap.
***Not all tuk tuk drivers are reliable. Until you know whether your tuk tuk driver is reliable, pay them for their services only after everything you have arranged is completed.
A wrod of advice: assume your tuk tuk driver is un-reliable, if you arrange for a later trip to the airport and pay them beforehand, chances are that they will not show up. Why would they? They have your fare and can be getting paid to drive some other paying customer at the same time.