Brisbane City Council hosts Diwali Festival of Light (Deepavali/Devali) 2011 in King George Square, City Hall.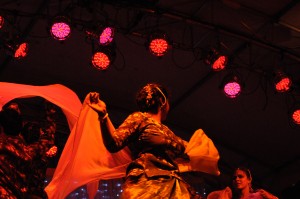 For Hindus Diwali is one of the most important festivals of the year and is celebrated in families by performing traditional activities together in their homes.
Diwali (also spelled Devali or Deepavali in certain regions), popularly known as the "festival of lights," is a festival celebrated on the one new moon night, between mid-October and mid-December for various reasons.

The festival starts with Dhanteras on which most Indian business communities begin their financial year. The second day of the festival, Naraka Chaturdasi, marks the vanquishing of the demon Naraka by Lord Krishna and his wife Satyabhama.

Amavasya, the third day of Diwali, marks the worship of Lakshmi, the goddess of wealth in her most benevolent mood, fulfilling the wishes of her devotees.

Amavasya also tells the story of Lord Vishnu, who in his dwarf incarnation vanquished the Bali, and banished him to Patala.

It is on the fourth day of Diwali, Kartika Shudda Padyami, that Bali went to patala and took the reins of his new kingdom in there. The fifth day is referred to as Yama Dvitiya (also called Bhai Dooj), and on this day sisters invite their brothers to their homes.

Diwali marks the end of the harvest season in most of India. Farmers give thanks for the bounty of the year gone by, and pray for a good harvest for the year to come.

Traditionally this marked the closing of accounts for businesses dependent on the agrarian cycle, and is the last major celebration before winter. Lakshmi symbolizes wealth and prosperity, and her blessings are invoked for a good year ahead.

There are two legends that associate the worship of Lakshmi on this day. According to the first legend, on this day, Lakshmi emerged from Kshira Sagar, the Ocean of Milk, during the great churning of the oceans, Samudra manthan.

The second legend (more popular in western India) relates to the Vamana avatar of the big three Vishnu, the incarnation he assumed to kill the demon king Bali. On this day, Vishnu came back to his abode the Vaikuntha; so those who worship Lakshmi receive the benefit of her benevolent mood, and are blessed with mental, physical and material well-being.