When Britain defeated China in the first Opium war, Hong Kong was little more than fishing villages.
Signed over the the British in the Treaty of Nanking on August 29, 1842, Hong Kong returned to Chinese soverignty on July 1, 1997.
As a Special Administrative Region of the People's Republic, Hong Kong enjoys a high degree of autonomy, retaining its capitalist system, independant judiciary and rule of law, free trade and freedom of speech.
Today, Hong Kong boasts one of the world's highest GDP's per capita and the largest number of skyscrappers in the world.
It is also one of the most densely populated areas of the planet, with seven million residents sharing just 1,100 km2 of land.
http://www.youtube.com/watch?v=L4yJGTPUR_0
Within 150 years, Hong Kong (meaning "fragrant harbour") has gone from an inaccessible mountainous region to a thriving business hub, luring visitors from all over the world with its east-meets-west fusion.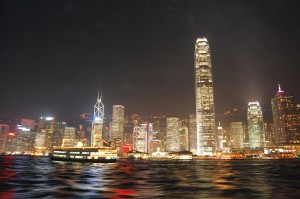 Catch one of the "Star" ferries for less than a dollar or for a traditional crossing sail on a "Junk" across the harbour and admire the galaxy of lights radiating from the towering skyscrappers.
From Kowloon's waterfront be mesmerized by the "Symphony of Lights".
Every evening at 8pm the Honk Kong side of the harbour comes alive with a calidoscope of colour with transitioning fluorescent lasers, patterned neons and search-lights gleaming into the nights sky.
The performance itself lasts for 20minutes, plenty of time to grab a cocktail or two from the famous Inter-continental Hotel or any of the ultra-chic bistros and bars along the Kowloon esplanade.
Work up an appetite by walking along the "Avenue of the Stars", HongKong's version of Hollywood Boulevard's Walk of Fame, where a path of embedded stars leads the way to the hand and footprints of local celebrities such as Jackie Chan and other film actors and directors.
Just about every street corner offers a culinary experience, there are just too many to choose from. Check out the local guide for the latest and most popular recommendations.