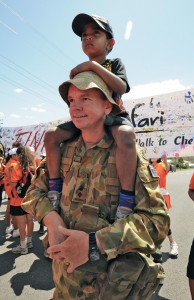 In the Spring of 2011, a number of Army Reserve soldiers of the 9th Battalion, Royal Queensland Regiment (9RQR), along with 37 Indigenous students committed a week of their school holidays to participate in a 102km walk, over 5 days, from Kilcoy to Cherbourg.
The inaugural 2011 walk was organized by Yalari.org to commemorate the original journey completed in 1902 by Aboriginal people who were forcibly relocated to the Cherbourg community.
I was privileged to have exclusive access to interview the organizers and participants and capture some of their insights, expectations and highlights of the commemorative experience.
Their stories are enlightening, humorous and inspirational.
Learn more about Yalari by clicking here.