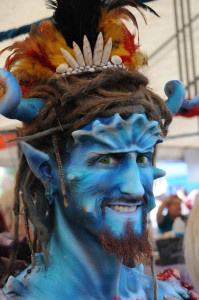 The Australian Body Art Carnivale is Australia's premier body art event, attracting artists and spectators from across Australia and overseas.
Amazing artworks and music are performed all weekend and along with a sensational Sunshine Coast Street Party, with multi-cultral food stalls and local produce and craft markets.
The Carnivale was a 'A Festival of Colour' centred around body art in its many and varied forms.
It is nothing short of phenomenal to watch the human canvases take shape during the competitions.
For artists the carnival presents an opportunity to showcase their creativity, experience the amazing atmosphere of the Carnivale and compete for over $16,000 in cash and prizes.
The Australian Body Art Carnivale is held annually in Eumundi, the dates for 2012 are from Saturday 12 May and Sunday 13 May.
The 2012 theme is "Under the Sea", providing an absolute wealth of inspiration for artists.