Top 10 Tips for Preparing Your Home for a profitable Sale.
1. FIRST IMPRESSIONS COUNT!
Street appeal is a PRIORITY. You probably don't realize just how many sales you lose before potential buyers even get to the front door. Buyers more often than not, do a "drive by" before an open house. You need to make your home stand out from the crowd! Look at your home from a buyer's point-of-view: stand on the footpath or across the street and really look at your home.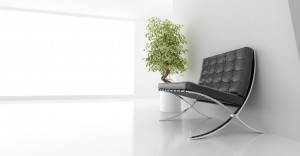 • House numbers: Ensure your house number is visible from the road – buyers can't view your home if they can't find it!
• Colour: Paint the door a bright colour, plant pots of colourful flowers/plants.
• Simplicity: Minimize you knick-knacks to maximize your return. Don't deprive your home of its soul but accept that the garden gnomes have to go!
• Prune: Trim branches, remove old palm fronds and manicure your lawn.
• Social Conscious: With a growing concern for environmental sustainability plant trees that require less water consumption. You can also appeal to your busy buyers who prefer low maintenance gardens.
• Hide & Seek: Emphasize the architectural elements of your home. Highlight features and downplay negatives. Put away the wheelie bins and tidy-up your letter box. Position plants to augment, but not hide exterior features.
Your landscaping needs to be attractive, neat and welcoming. Pique buyers' interest, making them curious to see what's beyond the garden. For more information about how to get a professional looking garden click here:
2. Clear the Decks!
Preparing your home for sale by de-cluttering has shown not only to add value but also generates quicker and more profitable contracts. Once again, you need to understand the psychology of your buyer. People walk into a space imagining how they would be living there. If they are distracted by your possessions and clutter they are not focusing on the home you are trying to sell them.
Don't just hide stuff in cupboards, under the stairs, or in drawers. Potential buyers are interested in all nooks and crannies – they will open EVERYTHING! Your kitchen cupboards and underwear draws, I have even seen them open the fridge?! Not only does clutter make rooms look smaller, mess suggests to buyers that there is insufficient storage.
When (not IF) you sell, you are going to have to pack it all up anyway. Why not pack it now?

Top 5 Disposal Options:
A) Temporarily lease a small storage space (approx $150-300/month)
B) Karma-credits. Relish in the cathartic experience of passing on your less used wares to your local charity.
C) Simply pack your possessions in boxes, label and seal them storing them in the garage (not the spare room) ready for the removalist.
D) Have fun & earn some cash – have a garage sale. Or…
E) A combination of all of the above.
One Man's trash is anothers treasure!
3. The Art of Balance.
While it's important for you to become emotionally detached, remember you want to help your buyer make an emotional decision. Creating a warm friendly space helps buyers feel comfortable and visualize where their own furniture can be placed. Be objective and ruthless but don't strip your home of all character.
Depersonalize and streamline your photographs and artworks; tone down bold decorations, but pack away the china doll and teddy bear collection. If you choose to re-decorate to sell, use neutral, light, modern colours that will not offend. There is an art to striking a balance between neutralizing and depersonalizing your home without leaving the place looking and feeling sparse, empty and unloved.
4. Attention to Detail.
The market rewards property owners that place a high-value not only on tidiness but particularly cleanliness. While you are scrubbing the floors:
• hammer down any loose nails;
• fix squeaky floorboards with talcum powder; and
• fill any dints.
Make the most of your views and let in the natural light by:
• cleaning the glass windows and doors;
• oil hinges and
• repair broken fly screens;
• wipe down walls with a soft cloth and a little sugar soap;
• use sample pots of colour-matched paint to touch up damaged areas; and
• stick down lifting wallpaper.
Scrub your bathroom and kitchen:
• whiten tile grout;
• replace washers on dripping taps; and
• remove built up stains and lime scale from glass screens, toilets, etc.
You should be able to eat off every surface!
Getting top dollar is a great motivation to finally complete all the little things that never get done around the house. Remember the buyers' psychology – they are looking for any excuse to discount your asking price. The more apparent imperfections are, the more ammunition to justify markdowns.
5. Appeal to all senses.
Make your home as welcoming as possible by opening windows and allowing the natural light and breeze through. This can help circulate the inviting sent of fresh flowers, freshly baked bread, brewing coffee or a subtle aromatherapy candle.
• Consider replacing antiquated curtains with contemporary blinds as they open up the room.
• Add a mirror to a dark room to help it appear larger and lighter.
• Dry or steam-clean curtains, carpets and rugs removing imbedded odours, especially if you have pets.
• Remove cigarette paraphernalia
• Empty cat littler trays before your open house and either wash your dogs or arrange for a friend to mind them, particularly since you will have numerous strangers browsing through your property.
Sometimes we can become desensitized to our own odours. If you are unsure of how your property smells, ask your agent or a brutally honest friend to tell you the truth.
6. Eliminate the Chicken-Littles
While you are busy sprucing up everything in front of you, don't forget to look up! Potential buyers, sure don't. Dust away old cobwebs and replace blown light bulbs. Remember to think like a buyer. If a light does not turn on – is it the bulb? Or the electrics?
It is worth investing in any ceiling repairs, it may not cost as much as you think, but buyers consider cracks and discolouration warning signs of greater structural problems. You don't want your buyers to be running around claiming the sky is falling as an excuse to reduce the price.
7. Watch your step!
Potential buyers look, listen to and feel what is under foot. New floor coverings are considered to be an expensive outlay for new homeowners, so don't let inferior floor coverings cost you the sale.
If your carpets hold unpleasant odours, get them cleaned. However, the average clean will not help if they are dated, wearing thin or covered in impossible stains. Pull them up. Do not, however, over capitalize on refurbishing your floors.
Polished concrete, quick-click floorboards or simply a stylish rug are cost effective alternatives to expensive tiles and hardwood timbers. Otherwise compromise and make improvements to your homes appearance with out breaking the bank, such as re-carpeting only 'comfort' rooms i.e. bedrooms and lounge.
Do not be tempted to scatter rugs throughout, to cover your floors imperfections. Having lots of rugs just adds to clutter and draws attention to the quality (or rather lack of,) of the flooring.
8. Make the most of what you've got.
You don't need to refurnish your entire home, stand in the entrance to discover each room's focal point. Where is your eye naturally drawn? The elegant fireplace, the Bay-window? Decide what your room's attributes are and emphasize their features by deliberately placing furniture to enhance not hinder.
Not sure what the space's highlights are?
Consider your audience. What's the most likely demographic of buyers interested in your property? Young families; elderly couples; avant-garde professionals? Appeal to their needs; demonstrate the versatility of a room: transform a boring storage space into a nursery, study or even foldout guest room.
Dress rooms with a subtle but consistent theme by carrying through colours, textures and/or patterns. Furnishings such as cushions, throws, lampshades and matching frames are simple and inexpensive items that can continue a theme from one room to another.
Know that less is more and continuity is key.
You don't want the buyers imagination to be disrupted by incongruence. Put things where they belong. Who wants their dinner party guest tripping over the exercise bike? Give new life to older pieces; re-define them if you have to. Your favourite antique chaise lounge that has been crowding up your modern media room would instead be a fantastic signature piece and help create a peaceful reading nook in the master bedroom.
If it is all too hard you can hire contemporary furniture or even an interior designer to help you get the ultimate look for your home.
CONTACT Impressions to learn how they can dress your rooms to ensure a quick and profitable sale.
9. Get the Best Team.
Whether it is professional decorators, tradies, contractors or agents, you want someone who really knows what they are doing. Finding the best people for the job will not only save you time and money, but make you money by generating quicker and more profitable sales.
If you're working with a real estate agent, you'll want one who can really sell. Someone who understands current market forces, knows your neighbourhood intimately, who is enthusiastic about your property and ultimately, someone who is trustworthy. Buyers lose confidence in agents who play games and act deceptively, providing misleading information or simply don't return phone calls.
Do your due diligence. Shop around, research the reputable agencies and most successful, reliable agents in your area, ask them the kind of questions buyers ask, and ensure they are working for YOU, not the buyer and not just themselves.
And lastly but perhaps, most importantly…
10. Show your home in its best light from the very beginning.
Before potential buyers even do their "drive-by" or get to your door, your home maybe eliminated from their search based on the first impression provided by your marketing team. Buyers predominantly and increasingly are using the internet to find property. Quality photographic presentation is more important than ever. Buyers do not want to waste time, using external and internal photos to narrow their search and determine which homes make the open-house cut. If your homes internet marketing material does not "wow" them, the next property is just a click away!
Ensure your agent hires a professional photographer and does not use the sale of your home as the subject for their photographic hobby.
A professional photographer will know the best angles, aspect and lighting to promote your property. Buyers appreciate both interior and exterior shots by day as well as dusk. Don't be tempted to publish too many photographs. Be selective and only post the shots that really present your property in its best light, sparking the buyer's curiosity, thus securing an on-site inspection.
Depending on your budget and time constraints, consider whether you wish to invest in traditional photographic marketing material or if you also want to take advantage of technologies such as virtual tours.
Ask your Agent or Real Estate Marketer about your marketing options or to discuss your photographic and marketing needs contact Impressions Real Estate Marketing directly by clicking here.